Questions & Answers
What are your hours?
We're open year-round! Here's when we're in the shop:
Mon
3pm – 8pm
Tue
3pm – 8pm
Wed
3pm – 8pm
Thu
3pm – 8pm
Fri
3pm – 8pm
Sat
3pm – 8pm
Sun
8am – 8pm
Do these hours not work for you? Call or text Jim's cell at (250) 668-7070 and he'll let you know his availability.
Even if we're closed, you can ALWAYS drop off skates using our secure lockers, located just outside the shop door.
We are also pretty flexible, and can usually make time after hours if you're in a pinch. Just call ahead and we will see what we can do!
Where are you located?
The Edge Skate Sharpening is located at 2118 Lang Crescent, in central Nanaimo. Check out our contact page for details (and a map).
Stepping right off the ice? Click for driving directions from Cliff McNabb Arena or the Nanaimo Ice Centre.
How much does skate sharpening cost?
It's only $6.00 to sharpen a pair of skates, or you can buy a 10-pack for just $50.00!
We also offer Team Skate Sharpening cards: purchase 30 skate sharpenings for $150, and anyone on the team can use the card.

We currently accept cash, Visa, and MasterCard.
What types of skates can you sharpen?
We sharpen hockey skates, including goalie skates. We are not able to sharpen figure skates.
How often should I sharpen my skates?
How often you have your hockey skates sharpened depends a lot on how often you play, and at what level.
As a general rule of thumb, we recommend that you have your skates sharpened somewhere in between every 4-8 games. (Our son is on the ice around 4-5 times per week and has his skates sharpened once per week.)
And if you haven't had your skates sharpened by The Edge before, you might be surprised at how much you like keeping them "sharp"!
What hollow should I choose?
This answer depends on the player, on size, playing style, and skates – and there's also just a "feel" to it.
Remember, the term "hollow" refers to the depth of your hockey blade, measured from edge to edge. We can provide a large range of different hollows, with the 3 most common options being 3/8", 1/2", & 5/8".
Shallow hollows have larger numbers (ex: 5/8"), and deeper hollows have smaller numbers (ex: 3/8").
Unsure which hollow to choose? Consider these points:
Your Style • Want greater speed in straightaways and easier gliding? Choose a shallow hollow. If you prefer clean, sharp turns, on the other hand, go with a deeper hollow.
Your Size • The more you weigh the more likely you'll benefit from a shallow hollow, as the less aggressive cut will prevent the blade from digging into the ice.
Your Ice • The ice surface itself has an effect on how the blade interacts with it, and a good rule of thumb is "the harder the ice, the deeper the hollow". When you skate on softer ice, a shallow hollow will allow you to glide across the surface, as opposed to digging in and slowing down.
What products do you sell?
The Edge Skate Sharpening now stocks products by Howie's Hockey Tape. We've got stick tape, sock tape, grip tape, accessories, and apparel.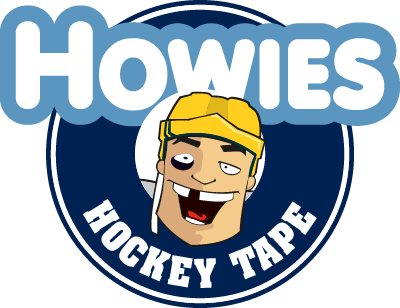 Howie's Hockey Tape makes the highest-quality cloth tape, shin pad tape, skate laces, stick wax, hockey pucks, and other hockey accessories in the world! We're proud to stock their products. Come check it out!